Posts for: February, 2019
By Laurier Dental
February 19, 2019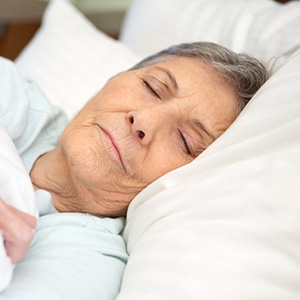 Perhaps you've heard the old saying: "Take care of your dentures and your dentures will take care of you." Well, maybe it's not that old—but it's still a sensible notion. Maintaining your dentures by routinely cleaning them and having them checked for fit will improve their longevity.
There's one other thing you should include on your maintenance routine—avoid wearing your dentures 24/7, especially while you sleep. This bad habit could lead to some unpleasant consequences.
For one, wearing dentures continuously can accelerate bone loss in the jaw that eventually causes your dentures to lose their comfortable fit. Bone loss is a natural consequence of tooth loss because the bone no longer receives the stimulation to grow transmitted by the teeth during chewing. Dentures can't transmit this stimulus; what's more, the pressure they place on the gums and underlying bony ridges could make bone loss worse. You can relieve this gum pressure at night by taking them out.
Dentures can also become a breeding ground for bacteria and fungi that cause disease, irritation and unpleasant mouth odors. Taking dentures out at night deprives these microorganisms of a prime opportunity to carry on business as usual—and it's also a great time to clean your dentures. People who sleep with their dentures in their mouth are more likely to have gum or oral yeast infections and higher levels of proteins produced by white cells that increase inflammation. That could contribute to other diseases throughout the body.
Besides taking your dentures out at night, you should also practice other daily hygiene tasks. Remove your dentures after eating and rinse them with clean water. Brush your dentures daily with a soft-bristled brush and dish or antibacterial soap or dental cleanser (no toothpaste—it's too abrasive for denture surfaces). Be sure you clean your gums and tongue every day too. When your dentures are out, store them in clean water or preferably an alkaline peroxide-based solution.
Removing your dentures at night and these other good habits will help extend the life and fit of your dentures. It could also help keep the rest of you healthy.
If you would like more information on denture care, please contact us or schedule an appointment for a consultation. You can also learn more about this topic by reading the Dear Doctor magazine article "Sleeping in Dentures: A Habit that Can Cause Health Problems."
By Laurier Dental
February 09, 2019
While dental implants have become the most popular restoration among both dentists and patients, it's primarily a tooth replacement — either for a missing tooth or a tooth beyond repair that must be extracted. But what if your tooth is still viable beneath its unattractive exterior? From an oral health standpoint, it's usually wise to preserve it.
Even so, you still have options for making a tooth that's spoiling your smile more attractive. One of the most effective solutions happens to be one of the oldest in dentistry: a crown. In effect, a crown is a life-like replica made of metal or dental porcelain that's bonded over a tooth. And with today's advanced materials and methods a crown can not only enhance the appearance of the tooth it covers, it can also be made to blend with the color and symmetry of adjacent teeth.
Here are a few dental situations where a crown could provide both protection for a tooth and a more attractive appearance.
Chipped, Damaged or Abnormally Developed Teeth. Teeth often take the brunt of mouth injuries, resulting in chips or even fractures. Also, teeth sometimes don't erupt fully or develop a normal shape. A crown can effectively cover these missing or abnormal parts of a tooth and restore a more natural appearance.
Following Root Canal Treatment. Trauma or deep decay can damage the interior of a tooth - the pulp and root canals - and endanger its survival. A root canal treatment cleans out and repairs these areas, filling them with a special filling to prevent further infection. A crown is usually necessary to both protect the tooth and restore its appearance.
Discoloration. There's a difference between outward staining of the enamel, which can usually be brightened with whitening solutions, and staining deep within the tooth from various causes. While there are techniques to bleach "intrinsic" staining, a crown provides another option for covering a heavily discolored tooth for a more attractive appearance.
Excessive Wear. We all experience some teeth wearing as we age; but grinding or clenching habits can accelerate that wear and shorten teeth, resulting in a prematurely aged look. Crowns restore worn teeth to a more normal length that can take "years" off your smile.
If you would like more information on crown restorations, please contact us or schedule an appointment for a consultation. You can also learn more about this topic by reading the Dear Doctor magazine article "Crowns & Bridgework."